@mtnsurveyor Does that include all electronics (inc. Pixhawk), rx/tx, battery (ies) ?
No I wish! just the hardware only.
I need to buy moters esc FC ect…
Freeman2100 is a complete KIT version of VTOL.If you have Believer, you can also buy VTOL's wings alone.Their fuselage and tail are universal.
Yes, the main freight and tariff are higher.
That was not a complaint on the cost. I do not have a believer but I have read only good stuff. I am happy to try this product and pay the stupid tariff.
Thank you for your recognition. If you have any questions during the subsequent installation, I can contact you directly.
Hi, I sent you an email 4 days ago and no answer. Can you check ?
Thanks,
Pascal
I'm very sorry that my email reply to you was automatically returned, but it was not sent successfully.
Where do we buy the VTOL-wings and hardware like booms, 4x motormounts, etc, (to make the Believer a Freeman)
Can only find the complete KIT.
Link?
No answer from you on that very very weird e-mail-address.
Please get a decent email-adress at a decent supplier.
OK, weird. Please check PM / Messages here on ArduPilot.
It is hard to find the wings to order. Do the motormounts come with the kit?
And the tilt-mechanism?
Hello!
I am very sorry that the two email boxes you gave me cannot receive emails normally.For some reason, emails are automatically returned.
The Taoboa website isn't very informative or reassuring. Has anyone purchased any of these products? Wondering what your experience was?
Thank you
Hi David,
Yes, I agree that the Taoboa Web site needs some work…even with the English translation. My Freeman VTOL should arrive this week. It took a week to make it through China customs and then the "slow boat" took a few weeks but it is in the USPS system now in New Jersey. I'll post photos when it arrives…
Cheers!
Greg,
Thanks for the update. Looking forward to seeing pictures and reading your assessment. What version did you get? I can't decipher the difference between the Free 2300 KIT and the Freedom 2300 Standard Edition. Do you know.
Dave
Dave,
It's a good question so I have asked Mr. Chang for clarification. My understanding is as follows. I think the change from Freeman to "Freedom" may just be a misspelling.
Freeman 2300 Kit - VTOL parts only
Freeman 2300 PNP - VTOL parts and electronics (motors, ESCs, props, etc.)
Freedom 2300 Standard Edition - RTF version with Believer
I've modified the Freeman wiring diagram a bit for easier identification in English.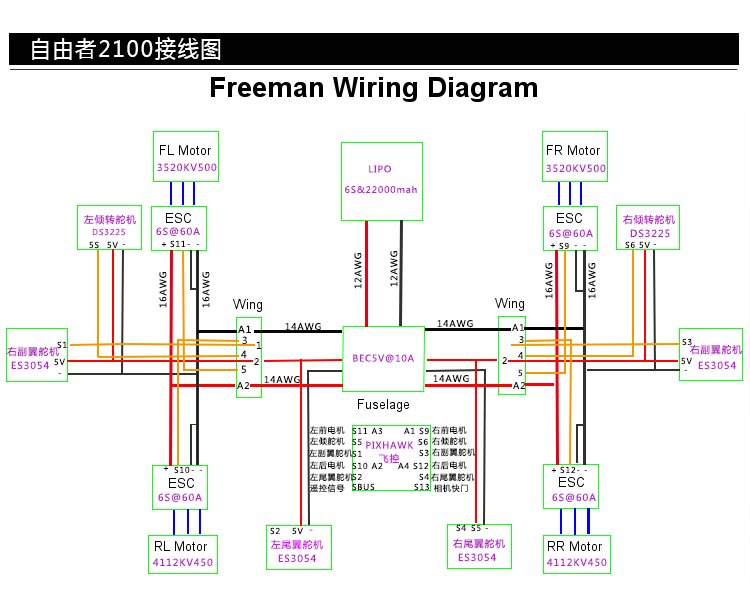 Thanks Greg,
I sent Mr. Chang an email yesterday. It's their weekend, so I may not hear from him for a few days.
I am looking for the Believer with VTOL parts and no electronics. Do you know if that is an option?
Thanks,
David
You can buy the Believer kit from Banggood here, or through Taobao here,and then buy the Freeman 2300 Kit.