I'm a beginner and right now I'm getting used to a lot of Data-flash logs.
Until Today the drone was pretty stable i made several RTLs and a few autonomous missions.
Everything worked well.
I changed the remote controller and wanted to try a normal RTL again.
The first moments were fine but when the drone was hovering above the Home point and began to descend the copter was really unstable (Nearly a 80 degree rotation on the pitch axis)
I switched into the loiter mode and the drone were getting a little bit more stable.
Here is a link to the .bin Log file:
https://www.transfernow.net/files/?utm_source=EvIvvG102020&utm_medium=&utm_content=de
LogAnalyzer:
Size (kb) 19830.6689453125
No of lines 224964
Duration 0:10:04
Vehicletype ArduCopter
Firmware Version V4.0.4
Firmware Hash 40502bd9
Hardware Type
Free Mem 0
Skipped Lines 0
Test: Autotune = UNKNOWN - No ATUN log data
Test: Brownout = GOOD -
Test: Compass = WARN - WARN: Large compass offset params (X:-122.74, Y:-78.91, Z:-272.29)
WARN: Large compass offset in MAG data (X:-122.00, Y:-78.00, Z:-272.00)
mag_field interference within limits (23.08%)
Test: Dupe Log Data = GOOD -
Test: Empty = GOOD -
Test: Event/Failsafe = FAIL - ERR found: CRASH
Test: GPS = GOOD -
Test: IMU Mismatch = GOOD - (Mismatch: 0.25, WARN: 0.75, FAIL: 1.50)
Test: Motor Balance = GOOD - Motor channel averages = [1217, 1234, 1187, 1199]
Average motor output = 1209
Difference between min and max motor averages = 47
Test: NaNs = FAIL - Found NaN in CTUN.DSAlt
Test: OpticalFlow = FAIL - FAIL: no optical flow data
Test: Parameters = FAIL - 'MAG_ENABLE' not found
Test: PM = FAIL - 18 slow loop lines found, max 8.18% on line 183434
Test: Pitch/Roll = UNKNOWN - 'BarAlt'
Test: Thrust = GOOD -
Test: VCC = UNKNOWN - No CURR log data
My Params after auto tuning: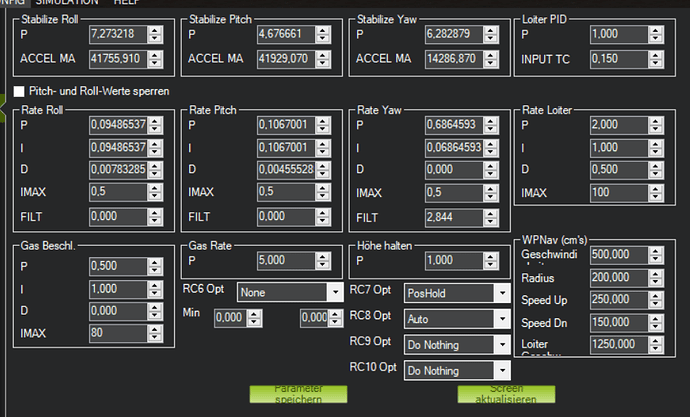 Here are some Data Flash Logs that represents the roll and pitch at the time where the drone descended and began shaking (ATT):
Green actual pitch and red the desired pitch: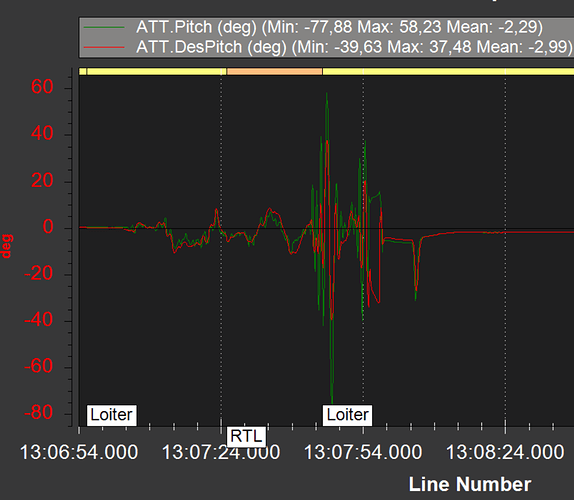 Green actual roll and red the desired roll: (-178 was when the drone flipped over on the ground)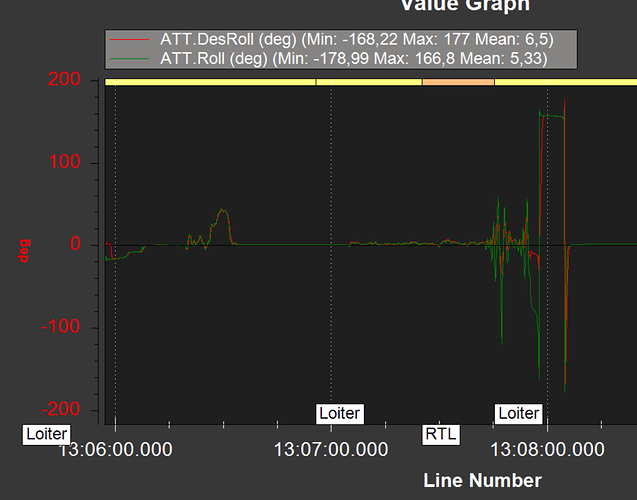 It seems to me that the drone actually wanted this behaviour because the desired degree is close to the actual degree in both cases.
But as i said I'm relatively new to the topic.
If you need further information please tell me.