hey Folks,
just a kind of a status report: The project made some great progress, but stalled again.
I've extended the uc4h node to also handle gps. I.e. you can connect it now to a standard gps+magnetometer unit, and get both data delivered via UAVCAN. Also, the parameters (and other stuff) became useful.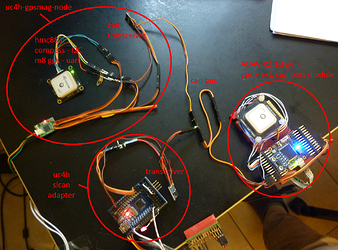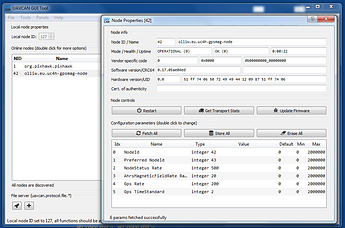 The UAVCAN GUI Tool seems to be quite happy with my node and slcan adapter. On an oszi signals look good, also the debug outputs I can activate on an additional uart port of the node. So I considered getting "serious" and doing the next steps towards an actual flight.
I thus flashed the flight controller (AUAV-X2 1st batch) with AP3.6-dev (5.5.), fetched the latest MP, and started setting up the flight controller for a real flight. In the course of that I found that the ardupilot node is extremely "unstable". I thus tried AP3.4.6, presuming this to be a more stable version. Behavior is more reliable, but often the pixhawk node will disappear after ca 10 secs.
I do have some confidence in, especially, my SLCAN adapter. It's such as simple hardware and code thing that it's not obvious how it could make the ardupilot/pixhawk node to disappear, while being happy with the uc4h node. On the other hand, one rightfully could argue that my earlier issues was a hardware issue, so one could suspect that here too.
Anyway. The situation is weird and I can't figure it out as it seems. Whatever the reasons are, I've given up on that project. Was IMHO a nice idea, but UAVCAN and AP is not DIY, at least currently.
I'd like to seriously thank EShamaev and Pavel, especially Pavel. Keep up your great work.


Cheers,
Olli