Making a simple photo survey mission with the Mission Planner Auto WP tool, (the first I've made in quite a while) I noticed that the DO_CHANGE_SPEED command (MavLink 178) has a new parameter - "type."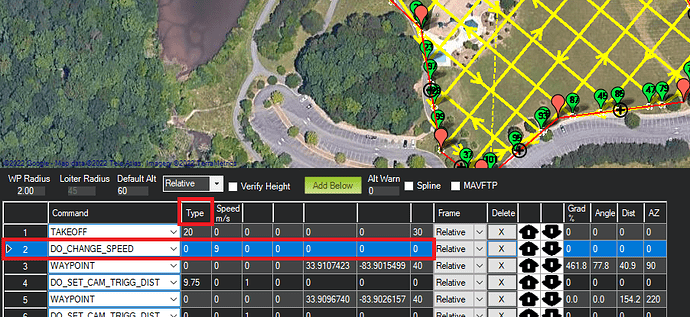 This parameter sets the type of speed - and the default value, "0" is airspeed. Obviously - a questionable choice for a quad-copter.

I've got a couple of questions:
What does the copter firmware do when it sees a value of "1" for this parameter?

There was a bug with the DO_CHANGE_SPEED command that required a work-around - it had to be placed after a waypoint to take effect. Has this been fixed?

TAKEOFF command (MavLink 22) also has a similar first parameter - "pitch." The Mission Planner Auto WP for survey maps puts a value of "20" in this first parameter - and it appears to be ignored. The description of the MavLink commands suggests that this command (or how it's processed) is ignored if no airspeed sensor is present. I'm not sure how the copter firmware handles it - but it appears to ignore it. If so - it's possible that copter ignores "type" for DO_CHANGE_SPEED as well.
If someone knows off hand - it would be nice to have more information about this. I know it's a chore to peak at the code to find out, but if that's necessary, I'd really appreciate the effort.
Thank you!