Hello,
A TeraBee Evo 60m rangefinder was laying around and we wanted to try it out with our mRo Control Zero flight controller.
We read the following docs:
We connected the rangefinder to the flight controller using the I2C ports shown in the image below highlighted in yellow. We also set the following parameters:
RNGFND1_MAX_CM: 6000
RNGFND1_MIN_CM: 50
RNGFND1_ADDR: 49
RNGFND1_ORIENT: 25
RNGFND1_TYPE: 14
EK2_ALT_SOURCE: 1
We also tried connecting the rangefinder to the USART highlighted in green.
When testing the sensor with Mission Planner, the "sonarrange" does not change (always 0).
We also powered the RF with an external battery. Same result.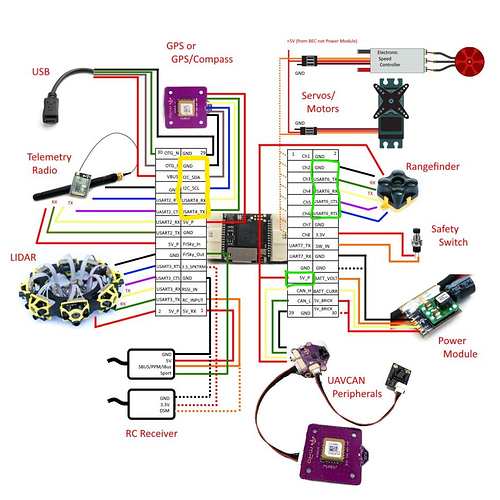 Any suggestions on what to try next?
Thank you for your time
Eltan