The Pro Pots are being claimed as a big deal. Same as the Futaba 18sz radio.
Who knows
If you buy the Jumper T18 Pro you don't need the R9M anymore…interesting…
If the preliminary specs are right that's true to 300mw transmitting power. The R9M module on FCC protocol has adaptive Tx power up to 1W. That's the mode I always use.
Very clever engineering and marketing strategy to draw FrySky audience. $189 pre order…hmm I may buy one. Pretty cheap compare to $2000 Futaba 18MZ…
My Taranis was sold in less than 1 day for $218…interesting…now waiting on Horus X10S
So at this moment I open Tx free

An X9D for $218? Huh, didn't know they held that much value.
Yep… and a used one. I think there is shortage out there.
OK, maybe it's time to let old faithful go.
SELL SELL SELL

Mine is gone

It's Fport if the Fport firmware is flashed, it's Sport if not. Same port on the Rx.
Pixhawk is F4 so it needs a bi-directional converter. F7's make things so simple.
oh…so F4 stands for Pixhawk like 2.4.6 "or" 2.4.8 "or" FMUV1 "or" FMUV2 "or" V3? "or" PXK1 "or" Cube "or" Pixhawk Cube "or" Pixhawk 2.1 "or" Pixhawk Orange "or" Pixhawk Blue "or" Pixhawk Purple rain… ha ha
Did I miss any other names?..oh forgot, Ardupilot FC…dah!
Jesus, why do we have so many different names for the same FC (pretty much)…lol
also referenced as Autopilot…
My wife calls them, "What a mess"…now that's a good one!!!
It's the processor, STM32F4xx. The problem started when Ardupilot began supporting boards that were generically called "F4 boards". Previously the only Flight Control firmware for these boards was Betaflight, Cleanflight, Butterflight, Blah Blah flight. Some called them "Betaflight boards". But many of them have the same processor and/or IMU's as a Pixhawk. The Pixhawk name itself has been spread pretty thin also as there are all kinds of variants. So yes, fairly messy
Seriously, Engineers should never be allowed to name products…lol
I am one…
I came from a product development /sales marketing background. You want to destroy a good brand, above is a fine example.
And throw in FrSky variance we got ourselves Jambalaya …

ha ha
Thats a real poor man yummy dish for sure…
p.s. just ordered one these, i think I am done with the name "Pixhawk" its like Corona virus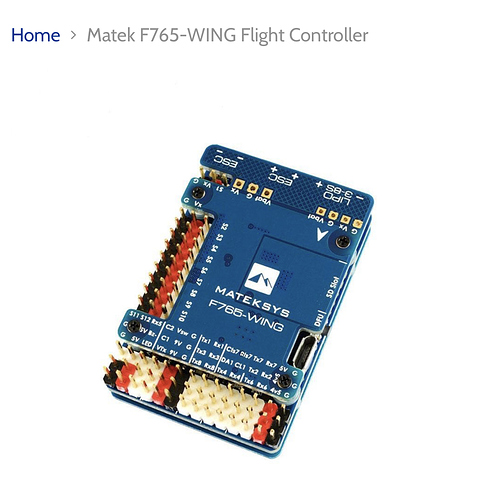 I am going to sell all my Pixhawks 1, 2, 3, 4, and all rainbow colors
Matek and Holybro are producing some nice Flight Controllers priced right.
The only thing I am not liking about Matek is;
No CAN support?
Supports 6S awesome so no external voltage reg.
You need one for Plane and one for quads…hmm
You can get CAN on UART 4 by uncommenting these and compiling:
'# CAN bus (disabled as used for UART4)
#PD1 CAN1_TX CAN1
#PD0 CAN1_RX CAN1
Many of these boards accept direct battery voltage, very convenient.
Planes/quads, not sure what you mean. The -Wing boards are fine for quads if that's the queston.