i managed to get hand launch to work somewhat but the plane crashed into a tree when it deviates from takeoff heading by 30+ degrees to the right. There is some wind component from the left, admittedly, but what worries me is the apparent inability of AUTO mode to put in enough aileron command to observe my default wings level tolerance (5 degrees I recall). Nav Period is 18. I haven't done much tuning but had a few flights in Autotune. The mission is set up with one takeoff point and one loiter point about 20 degs to the LEFT of my takeoff heading to stay clear of obstacles. I watched in horror as the plane steadily turned RIGHT after takeoff.
See graph below. AccX added to mark hand launch and crash time.


hand launch occurs at 16:29:47 or whereabouts. the negative peak on the right is the crash. Note that roll remained to the right almost throughout the flight, at times >20degs and caused significant heading deviation to the right. You can also see that I put in hard left moments before the crash. Immediately after takeoff, AUTO mode was able to put in large aileron to correct roll errors, but why then it limited itself to small left aileron and never got the right roll under control?
comparison between Des Roll and Roll also shows a large persistent roll error that the system was unable to zero. If Des.Roll and Roll agreed, then the heading command is wrong, but in this case the system seemed to know where it ought to go but somehow decided to take it very very slow. Also, if the IMU leveling is incorrect, then the roll would oscillate around zero even though the plane deviates to the right. Again in this case, IMU registered significant right roll. I am at end of ropes as to what went wrong.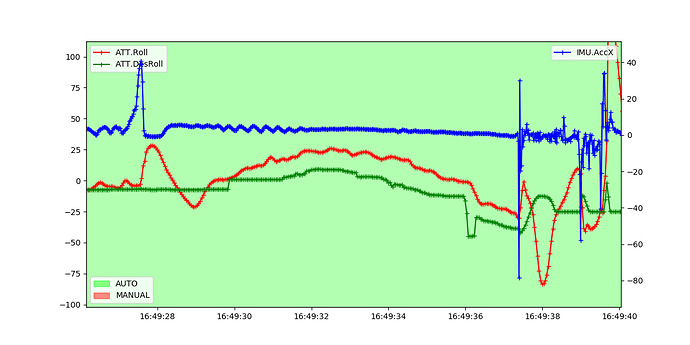 Another thing is at the moment of my hard left input, I also switched to Manual, although apparently the plane didn't respond to that. It might be too late anyway, but this is another unresolved mystery. I have RC lost failsafe set up and it triggered in previous flights correctly. Notice that the plane did not go into RTL. What's wrong here? Something special about Takeoff or Auto mode?
I had good 20 GPS sat locked and my external compass never gave me any problem. my airspeed sensor has been playing up but it should not affect roll control.
I am not attaching my log here because of location-wise privacy issues, but i've been playing around in MavExplorer for hours I can upload any graph as need. Thanks.