Hello all,
When I tested vibration failsafe on multiple frames, I noticed that tri frame flies away in LAND mode.
You might reproduce the issue in SITL as the following steps:
./Tools/autotest/sim_vehicle.py -v ArduCopter -f tri --console -w
param set EK3_IMU_MASK 1
loiter
arm throttle
rc 3 2000 (climb to 30m)
rc 3 1500
param set SIM_ACC1_BIAS_Z 2
param set SIM_ACC2_BIAS_Z 2
param set SIM_ACC3_BIAS_Z 2
As you see the below, the drone landed on a location far from the landing position.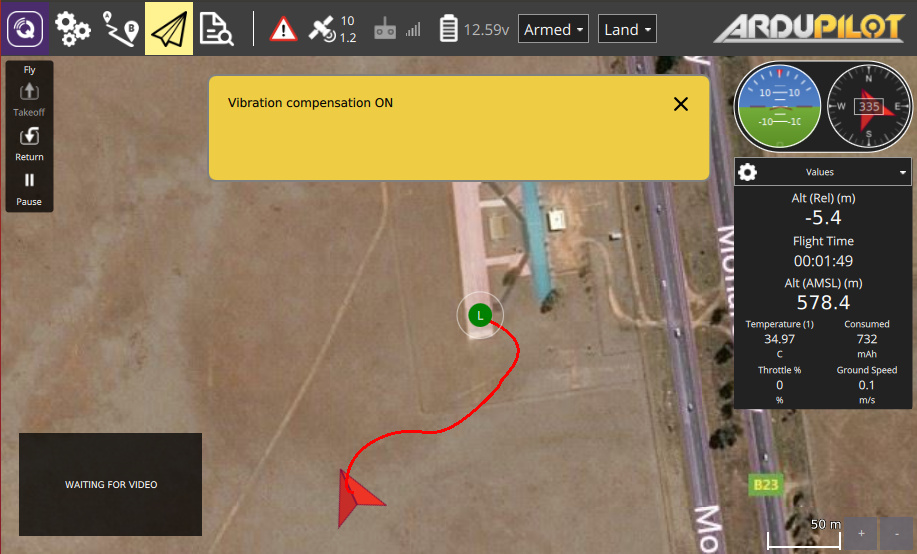 I have tested other frames (deca, dodeca-hexa, hexa, octa, octa-quad, quad, and y6), and I could not see the issue. The issue only happens in tri frame. Thanks!
Test version: d599052da3
Logs: https://drive.google.com/drive/folders/1mnT-gcLm58zD84uB7_hnVf4wVQEAcl8y?usp=sharing