Hi Bill and Chris,
After my first successfull setup,i am moving forward to the first step of tuning.My Rate is not smooth in my logs.My head speed is 2400 RPM and i have applied notch filter like this: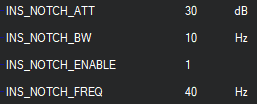 When i give stick movements,its kind of oscillates and then stables itself.I have logged with log bitmask 131071.
Could you please help me with my first step of tunning.Heli is electric Blade450 with flybar with a castle esc using esc governor with fixed RPMs.Thanks.
Log before applying notch filter

Log after applying notch filter.