Hi friends,
i'm a problem and ask your help.
I installed on my quad Arducopter 4.0.3 a rangefinder SR05 (or SU04) sonar whit i2c connection.
I need rangenfinder for forward obstacle avoidance.
This my setup: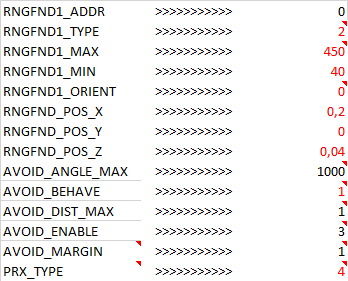 I correctly see distance forward in radar proximity visualization on Mission Planner but no valors of distance obstacle is visible on Rangenfinder1…
If i setup PRX_TYPE —> 0 i see valors in radar proximity and Rangenfinder1…
Am I doing something wrong?
Thank's to all friends @ppoirier @xfacta @smartdave @dkemxr