Hi all,
I am a graduate student building a drone for a field project. The project requires at least 8kg of payload, so I decided to build a customized one. It is my first time building a drone, but I try my best to follow all instructions and other people's topics. Any comments and follow-ups would be appreciated.
Here are the specs:
Propellers&ESC: DJI E5000 PRO
Frame type: Hex-x
Controller: Cube Orange
Firmware: ArduCopter 4.1.5
GPS/RTK: Here3
Frame weight excluding battery: 11.25 kg
Battery: Tattu 10000mAh 25C 6S 22.2v (2 to make 44.4)
After the basic configuration and testing. I conducted a autotune with a weight of 13.5 kg (frame + batteries). The drone can fly very steadily after the tuning.
Then I conducted a payload test with an additional 15kg weight using dumbbell weights shown below. I also adjusted the ATC_ACCEL_MAX parameters according to the ArduCopter documentation(Setting the input shaping parameters — Copter documentation).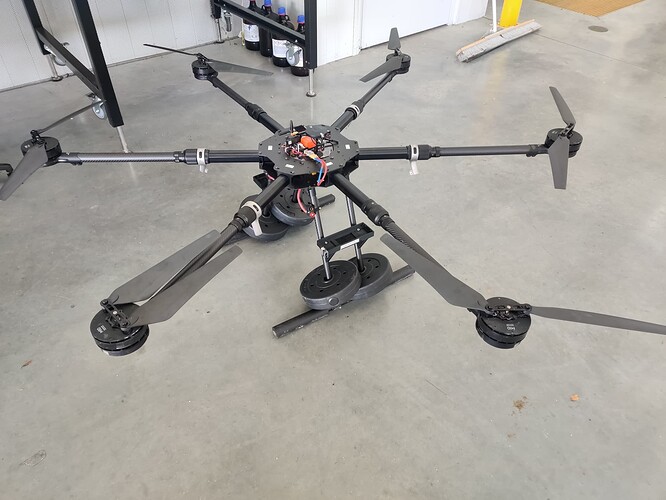 However, two problems were observed during the payload test:
The drone has some low-frequency vibration while hovering.
The batteries dropped under 3.5V per cell after 1 min of hovering and triggered the battery failsafe (It can fly for 12 mins with only frame + batteries). Then they came back to 3.9V per cell after landing.
My questions are:
How should I reduce the vibration when a heavy load presents? Is it because my center of mass moved much lower so the tuned controller no longer matches?

The batteries seem to discharge very fast. How should I check if I may damage the batteries? Do I just keep the voltage under load always above 3.4 V while disregarding the discharge rate?

Since the batteries came back to 3.9 V per cell after landing, is it a good idea to go lower (i.e. 3.1 V) when the batteries are under load?
Here is the log.
Thank you in advance for any kind of help!