I tried QRTL today and noticed the same "porpoise" issue than you. @tridge : any idea?
Pretty distinctive behavior as can be seen in the logs (C3 forward motor, C5 to C8 quad motors):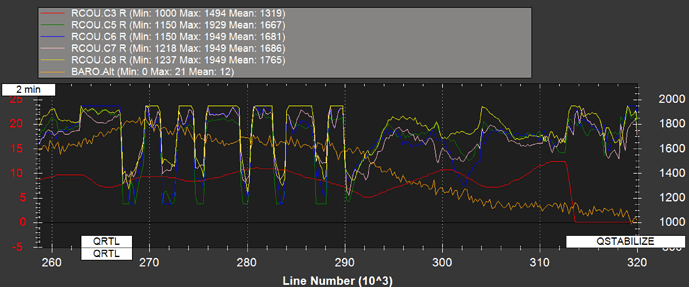 It still made progress towards the landing area in all three X, Y Z axes. I kind of let it do its thing until it came close to 1m above the ground and took over in QSTABILIZE.
QSTABILIZE, QLAND, QHOVER, QLOITER all work well. Also, a mission in AUTO with a WAYPOINT and VTOL_LAND show no such issue. So it seems very specific to QRTL.
BIN log here, see after line 260000: https://drive.google.com/file/d/0Bz8Gb5bfp9T2X2NDcTR5Szd3Rm8/view?usp=sharing
Some params here:
THR_SLEWRATE,100
LAND_THR_SLEW,0
ALT_HOLD_RTL,10000
RTL_RADIUS,1
WP_LOITER_RAD,60

Q_A_ACCEL_P_MAX,110000
Q_A_ACCEL_R_MAX,110000
Q_A_ACCEL_Y_MAX,27000
Q_A_ANG_LIM_TC,1
Q_A_ANG_PIT_P,4.5
Q_A_ANG_RLL_P,4.5
Q_A_ANG_YAW_P,4.5
Q_A_ANGLE_BOOST,1
Q_A_RAT_PIT_D,0.0036
Q_A_RAT_PIT_FILT,10
Q_A_RAT_PIT_I,0.25
Q_A_RAT_PIT_IMAX,0.444
Q_A_RAT_PIT_P,0.25
Q_A_RAT_RLL_D,0.0036
Q_A_RAT_RLL_FILT,10
Q_A_RAT_RLL_I,0.25
Q_A_RAT_RLL_IMAX,0.444
Q_A_RAT_RLL_P,0.25
Q_A_RAT_YAW_D,0
Q_A_RAT_YAW_FILT,5
Q_A_RAT_YAW_I,0.018
Q_A_RAT_YAW_IMAX,0.222
Q_A_RAT_YAW_P,0.18
Q_A_RATE_FF_ENAB,1
Q_A_SLEW_YAW,6000
Q_A_THR_MIX_MAX,0.5
Q_A_THR_MIX_MIN,0.1
Q_ACCEL_Z,250
Q_ANGLE_MAX,3000
Q_ASSIST_ANGLE,30
Q_ASSIST_SPEED,13
Q_AZ_D,0
Q_AZ_FILT,10
Q_AZ_I,1
Q_AZ_IMAX,800
Q_AZ_P,0.3
Q_ENABLE,1
Q_ESC_CAL,0
Q_FRAME_CLASS,0
Q_FRAME_TYPE,1
Q_GUIDED_MODE,1
Q_LAND_FINAL_ALT,6
Q_LAND_ICE_CUT,1
Q_LAND_SPEED,50
Q_M_BAT_CURR_MAX,0
Q_M_BAT_CURR_TC,5
Q_M_BAT_VOLT_MAX,0
Q_M_BAT_VOLT_MIN,0
Q_M_HOVER_LEARN,2
Q_M_PWM_MAX,0
Q_M_PWM_MIN,0
Q_M_PWM_TYPE,0
Q_M_SPIN_ARM,0.1
Q_M_SPIN_MAX,0.95
Q_M_SPIN_MIN,0.15
Q_M_THST_EXPO,0.65
Q_M_THST_HOVER,0.5
Q_M_YAW_HEADROOM,200
Q_P_ACC_XY_FILT,2
Q_PXY_P,0.7
Q_PZ_P,1
Q_RC_SPEED,490
Q_RTL_ALT,12
Q_RTL_MODE,1
Q_THR_MAX_PWM,2000
Q_THR_MIN_PWM,1000
Q_TILT_MASK,0
Q_TILT_MAX,45
Q_TILT_RATE,40
Q_TRAN_PIT_MAX,3
Q_TRANSITION_MS,5000
Q_VELZ_MAX,250
Q_VFWD_ALT,0
Q_VFWD_GAIN,0.05
Q_VXY_FILT_HZ,5
Q_VXY_I,0.35
Q_VXY_IMAX,1000
Q_VXY_P,0.7
Q_VZ_P,5
Q_WP_ACCEL,100
Q_WP_ACCEL_Z,100
Q_WP_LOIT_JERK,1000
Q_WP_LOIT_MAXA,250
Q_WP_LOIT_MINA,25
Q_WP_LOIT_SPEED,500
Q_WP_RADIUS,200
Q_WP_RFND_USE,1
Q_WP_SPEED,500
Q_WP_SPEED_DN,150
Q_WP_SPEED_UP,250
Q_WVANE_GAIN,0
Q_WVANE_MINROLL,1
Q_YAW_RATE_MAX,100