My QuadPlane seems to fly well in QSTABILIZE and QLOITER. I haven't tested the transition or fixed-wing yet. So what's below is all in VTOL mode.
I tried to load the following mission, hoping to fly it in AUTO so it automatically takes off, waits a few seconds, and then goes to a waypoint.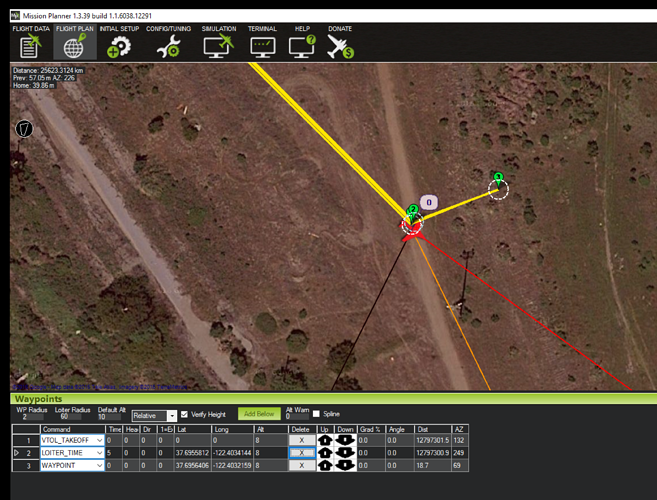 After it successfully took off, it unexpectedly flew North instead of waiting and following its waypoint, West from its take-off location. I had to take it back in QSTABILIZE mode and go South. The trace can be seen here: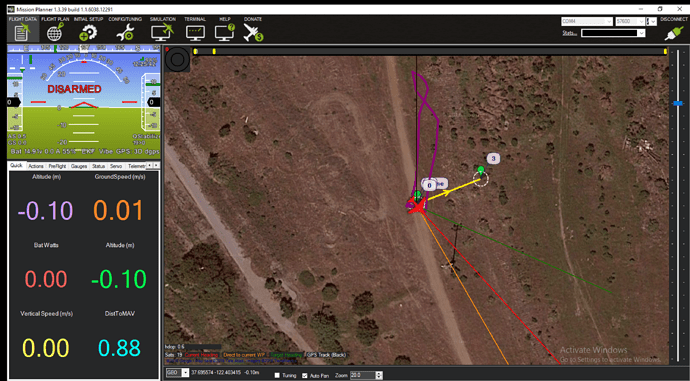 Am I missing something? I should note there was quite a bit of wind but QLOITER works just fine so I'm expecting the aircraft to be able to follow navigation.
After this happened, I decided I was going to test the same mission in APM:Copter and it worked just well. So I'm not sure what is happening with APM:Plane and Q_ENABLE=1.
One strange thing I noticed, as can be seen on the first screenshot with the yellow line going towards the top-left, is MP seems to get confused with the VTOL_TAKEOFF command being at lat,long = 0,0. I'm not sure if this is related to this issue?
I use APM:Plane 3.7.0.