Hi Friends, I'm hoping someone has some clues for me as to what is happening…
Background:
New user here. Spend lots of time on DIYDrones.
Long time APM quad-FPV pilot. 100+ Hours. I'm a DIY guy.
Finally put together a plane (so excited):
[ol][li]SkyHunter Mini[/li][li]Pixhawk FW3.3 w/ External GPS/MAG[/li][li]RangeLink RC // 5g8 Video[/li][li] etc…[/li][/ol]
Problem: LONG Story SHORT
TWO IDENTICAL CRASHES!!!
Crash 1)
Anxious to have the frame tuned, maiden was hand-launched in AutoTune. About 1min:21s into flight attempting RIGHT 180* bank, PIXHAWK ROLLS INVERTED TO THE LEFT. After momentary loss of control and not enough time to correct, Plane is in trees and cacti.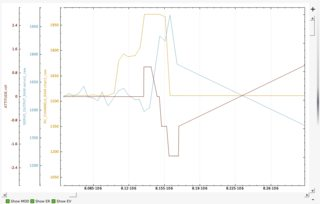 i.imgur.com/oJGg1J8l.png
Crash 2) (Day after)
Fixed bent wing and hand-launched in Stabilize. After a minute of successful Stabilize flight, AutoTune was engaged. After about a minute of AutoTuning (again turning around 180*, but to left) PIXHAWK ROLLS INVERTED TO THE LEFT AGAIN. Anticipating this unknown action, I switched back to Stabilize. Control was returned, but again not enough time to recover. Trees and Cacti.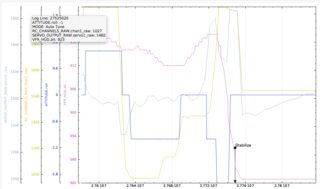 i.imgur.com/cJl9WTL.png
VIDEO
I stitched the two crashes together in one video. This helps show these un-commanded barrel rolls.
[youtube]https://www.youtube.com/watch?v=pCJcyKvEPWA[/youtube]
Analysis
[ol][li]I know the AutoTune wiki says to switch out if flight becomes uncontrollable. But this CANNOT be what they're referring to… [/li]
[li]I have poured over the .tlogs for many more hours than I care to admit. (No success downloading datafashes)[/li]
[li]As you can see in the graphs/video, I am NOT commanding these hard left turns. Nor is Pixhawk. So why is it happening???[/li]
[li]I cannot find evidence from Google that this is happening to others.[/li]
[li]Notice Attitude.roll is going in the opposite direction as ch1raw and servo1out???[/li]
[li]sys_status.load is >100 only when in autotune mode. Is this normal? Max 115.[/li][/ol]
TELEMETRY LOGS (Too large to upload)
drive.google.com/folderview?id= … sp=sharing
I am at a loss.
I hope someone can catch something I'm missing. It's gotta be something silly…
Thank you so much in advance for any input!!!