Hey,
I am trying to build an FPV drone. It's an X frame quadcopter with F40PRO Ⅳ KV2400 motors and T5146 Tri-Blade propellers (5''). It has a 4S 10000mAh battery. The total weight of the drone is 1.6Kg.
From what I've understood from the motor datasheet, the motors seems to be well suited for the current configuration.
For the first flight I've used the recommended parameters from MissionPlanner.
I've tried to take off the drone slowly in STABILIZE_MODE with MOT_HOVER_LEARN = 2. However despite I've slowly slided the throttle stick to about 80%, the drone was barely lifting from the ground. After trying this for 45s I've stopped the drone, an then, I felt an intense smell of burned electronics coming from the drone. I've quickly runed to grab my thermal camera and checked for any hot spots and saw that the motors reached about 250ºC! I took a closer look to the motors and I've noticed some motor coils were burnt…
Here is the log from this flight: https://drive.google.com/file/d/1xPb7g2ogsPA4KwSOjpwgMSO1Y8fa8OZ3/view?usp=share_link
Also, these are the current parameters on the drone: https://drive.google.com/file/d/1pyEH9pyLy4IdI2iAQpMS3iql4gi99Ysq/view?usp=share_link
I've inspected the logs searching for something strange and found this odd graph about Throttle vs RCOU.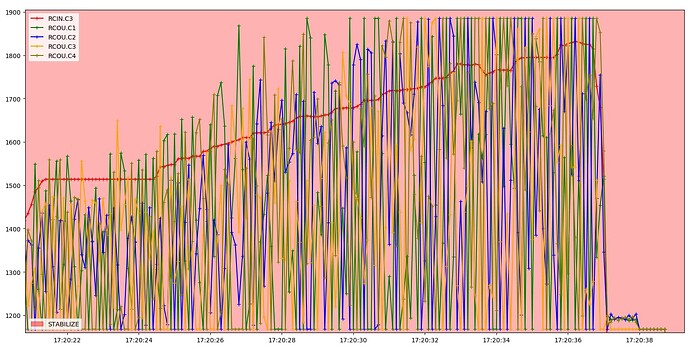 It seems that the output to the motors is almost always ON/OFF but I can't understand why. Can you point me some directions on what to look for? What other tests may help to understand the source of the problem?
PS1: I am very new on the drone subject so I apologize for any stupid and obvious mistake I might be doing and I want to thank you in advance for your time.
PS2: Dave, thank you for the quick reply to my incomplete question (I've used the wrong keyboard shortcut to enter a new line and so the post was submitted too early.)