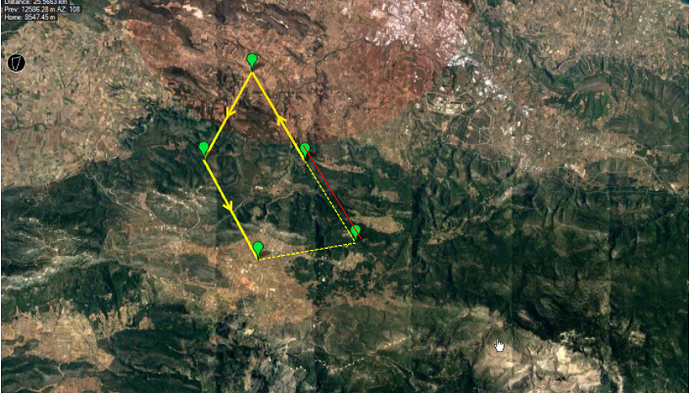 Hello guys, my name is Evans Mantas , I am currently studying Computer Science in the last year of my Bachelor Degree. I have already been engaged in a part of Ardupilot flight code,"professionally" through last semester's internship, and doing simulations in my free time, trying to learn how to fly.
I would like to be part of the No-Fly / Stay-Out zones. Here is my suggestion , trying to be as more clear and at the same time, short on words:
The GCS gets the location of the nearest No-Fly zones (NFZ). In the settings menu the user defines the distance radius in which the GCS looks for NFZ). It sends the locations in the following array format :
[longitude, latitude, radius of NFZ in meters].
The autopilot on the drone checks the distance from the NFZ using the following formula:
Dist = Abs_EucledianDistanceOf(DronePos, NFZPos) - RadiusOffset
If this distance is equal of the radius of the NFZ, then RTL mode will be initiated.(Red line in the picture)
I am more than willing to hear your proposals and ideas to expand ardupilot functionality.Should there be any question or make a CV inquiry (I do not wish to make it shareable) don't hesitate to contact me: emantas000[at]gmail[dot]com