What I am doing
I am Kang-Hua. I am currently a master student studying at San Jose State University majoring software engineer. Because of a recent project, I found ArduPilot community and GSoC. The project is actually a competition host by the City of San Jose[link]. They have trouble removing graffiti at certain places such as highway overpasses. Our approach is building an autonomous drone system to achieve the goal. Luckily, our idea passed the first phase and entering the second phase of the competition.
Here are some modules for our system so you can have a better idea of whatwe are doing:
Communication & companion computer
Image detection using machine learning
Controller for spray (removal) and tilting cameras
Mission setup through Ground station or App
Vertical/Horizontal navigation system (spiral around pillars under highway overpasses)
My responsibility is to create an interface linking other components together. On the drone, it is the companion computer; on the ground, I will provide APIs for ground station and machine learning server. Something like this: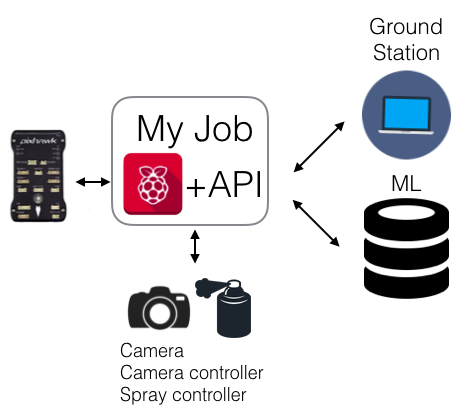 As you can see, I need to deal with communication problems. I started using DroneKit and learned basics about MavLink protocol and portion of ArduPilot functions. I believe I will be handy with them very soon.
My Idea for GSOC
I would like to push further on the communication part so my proposal for GSoC is building distributed systems for drones. (I just got into this field. Bear with me, if this has been developed.) Like other distributed systems, there will be a master drone giving orders to rest slave drones. Here are some scenarios: controlling multiple drones flying from one place to another together; carrying one heavy product; spraying pesticide. In this case, building multiple drone application easier and users only have to control the master drone. It also has to have other features like basic collision avoidance while collaboration.
If you have any suggestion, feel free to reach me through bondk818@gmail.com. Thank for your time.