I finished my Single-Copter, you can find several videos of it here. That was my first ever copter, I higly suggest to anyone to not build a Single-Copter without any experience before (like me) because it is the worst frame type. It's fun, yes, but VERY unforgiving.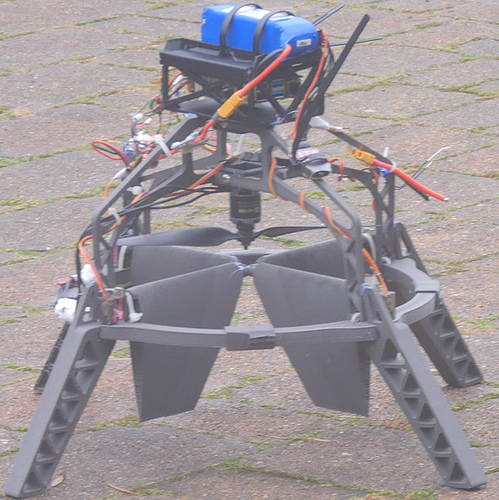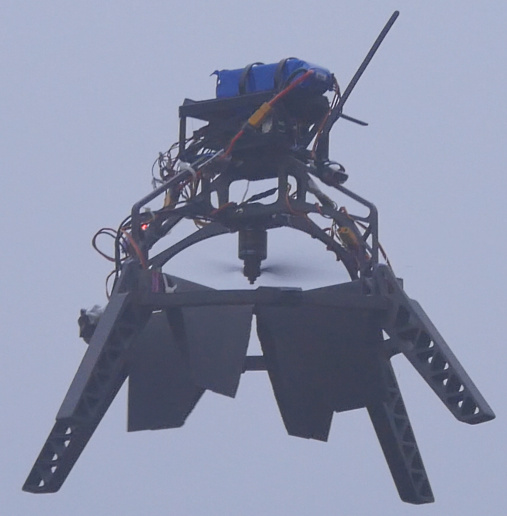 In this thread I'll give you advices on building your own based on the choices I've done for my build.
Weight : it will be heavy, mine is 900g. I initialy calculated for 1kg of thrust for less than 700g of wheight, luckily I have more thrust than expected (1.3kg I think). My structure is not heavy (150-200g), but the electronics add up quickcly for this poor single motor.

Prop : I would not advise anything less than 10" 4.5 (that's what I have with a 4S and a 900kV brushless). You won't be able to lift anything smaller since the electronic does not scale with the prop size.

Fins : MAKE THEM BIG it's the heart of your copter. Mine are 12cm long (I made them too small 2 times in a row : 4cm and 8 cm) and follow this kind shape (it seems nice to me … yeah I hate fluid dynamics)

Structure : It is bound to break if you crash the copter. It's impossible to do something strong (and light) with those 12cm fins while dodging the big-ass propeller just above/below. With more thrust you may be able to build something strong. BTW everything I've done is 3D printed using colorfab LW-PLA (only 200g with 3D printing is quite impressive, and foam is also a good alternative).

Legs : don't make them springy if your thrust control is below the center of gravity. If your thrust control is below the center of gravity, the copter is unstable when the legs touch the ground. So you have to make them wide and rigid.

Center of gravity : ALWAYS CENTER THIS BAD BOY !!! and make it as far as possible from thrust rotation point (i.e. from your fins). This will help with stability a lot (On mine I can slide the battery around to help with the balancing) (also, levelling the copter is hard, I built a support to align the motor rotation axis with the gravity)

Tuning : First tune the yaw on a string. With that you'll see if your fins are long enough, they should not be far from straight while stable (see my close up videos to see the stable angle on mine). Tuning roll/pitch with a string is very hard because it changes the dynamic a lot when under tension. If your TVC (thrust vector control i.e. fins) is below the COG (center of gravity), the string should be attached below the COG. Otherwise the string should be above the COG (not too far away) [Edit : wrong see my comment]. If you do this, the dynamic while the string is under tension will not destabilise the copter PID. Personaly I was not able to finish tuning with a string, it's really hard if your TCV is below the COG.

My tuning (D is quite important to counter the gyroscopic precession) : (I'm still looking for the perfect tune, and I'm afraid of autotune)


Servos vibration : because of the masse attached to the servos (a 18g fin) the servos tend to oscilate if there is no friction to dampen it. You simply need to add friction where you can to stop it.
And I think that's all folks, feel free to ask questions and propose some improvement !
Currently I'm working on filtering the vibration with the Notch Filter before tuning the roll/pitch PID more precisely.