I have been churning over this issue with the M8Q-CAN GPS unit and haven't been able to find anything that would help me get connection to it. The M8Q displays a slow flashing blue light which indicates its connected/communicating over CAN and I am getting the green flashing light for GPS lock. However, in MissionPlanner (v1.3.75) I get the No GPS and Compass health warning. The compass doesn't appear in the setup. When looking at hardware IDs I get a parameter name "FRSKY_DNLINK_ID that is a UAVCAN BusType.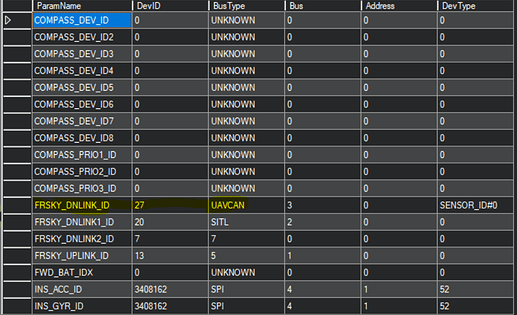 I am running Arduplane v4.1.2 and have followed configuration for it from ArduPilot reference and double checked wiring. I am using a Matek F765-WSE which has a CAN port that supports the default wiring.
I've spent hours going in circles with checking and trying different parameters. What am I missing and/or what should I try next? Any suggestions would be appreciated.
I have attached my parameters below.
M8Q_NoShow.param (19.8 KB)