Hello,
I am using a lightware LW20/c rangefinder on a Y6 hexacopter and I am experiencing range issues.
FC: mRobotics x2.1 - arducopter 3.7.0dev (problem occurs with 3.6.9 as well)
Rangefinder connection: Serial 4 - 115200 baud
Lightware LW20/c firmware: 1.6.4
The sensor works appropriately up to ~7.4m while flying, thereafter it quite consistently displays a reading of 1m. While testing on the ground, the unit works well over 7.4m (rated to ~100m) and only shows 1m when aimed towards the sky, or to a target over 100m away. I was able to get readings up to over 18m while attempting to fly over shaded areas of the grass, but this was not consistent at all. Could the sun-lit ground be reducing the range on this sensor over one order of magnitude?
I have been waiting for a response from Lightware's support for almost 2 weeks now, thinking the issue may be with the sensor itself, or that they might know what the issue is. Due to the extremely delayed response, I decided I would see if anyone here has experienced this and if they may have any ideas.
Here are some relevant parameters:
RNGFND1_TYPE: 8 (LightWareSerial)
RNGFND1_MAX_CM: 9500 (tried 15000 as well)
RNGFND1_MIN_CM: 20
SERIAL4_BAUD: 115
SERIAL4_PROTOCOL: 9 (Rangefinder)
I will upload two screenshots showing the issue through RFND.Dist, as well as one log. Any help/insight would be greatly appreciated.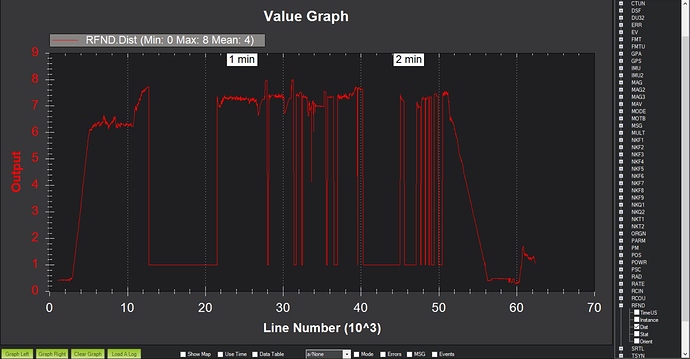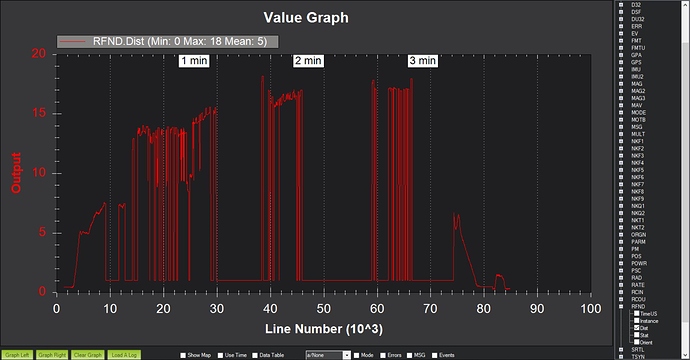 Log