@Leonardthall I had a chance to perform takeoffs and landings in loiter mode while testing the z controller relax feature. I'm assuming here that the position controller in 4.2-dev is basically the same as 4.1. I had some issues when taking off and landing in loiter where the aircraft wanted to pitch or roll to follow the target (which I did not move so it was GPS drift). In any case I ended up fighting the loiter controller to keep the rotor head neutral. I'm not so sure what can be done for landing as we are already freezing the position controller once it declares Land_complete_maybe. Here is a plot of that process.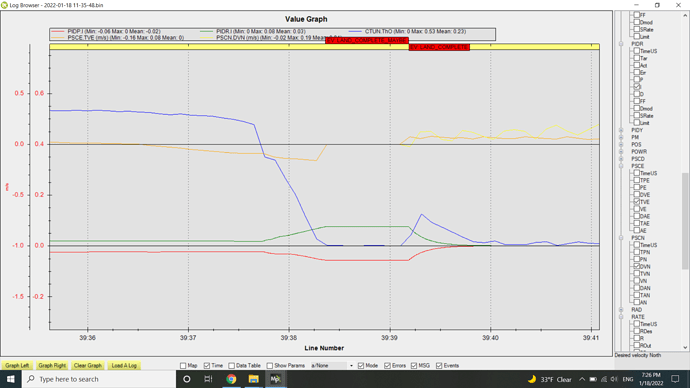 I put the East and North velocities to give a sense of what the position controller was doing. There is a short period of time, close to a half of a second, for the collective to settle below the land_coll_min value to declare land complete maybe. Like I said, I'm not sure there is more we can do here. Maybe procedurally by lowering the collective stick quickly once landed to drive the command higher descent rates on the ground to get the controller to lower the collective quicker. I don't think we want to linger with the collective stick at low descent rates once landed.
Now for takeoff, I believe we have some improvements that can be made. Here is a plot of a takeoff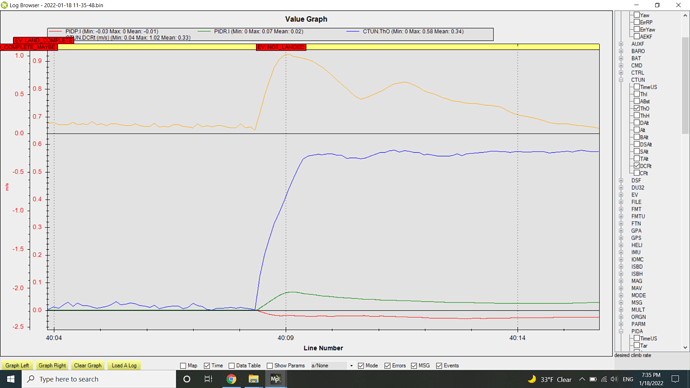 The not_landed flag is declared immediately upon entering the takeoff sequence which releases the position controller and the attitude controller integrator terms. This allows a lot of position error and integrator build up before the aircraft is even light on the skids. Why can't we handle the position error and integrator like we handle the integrator for takeoffs in stabilize mode where the not_landed flag is not declared until the collective/throttle is 50% of the hover collective/throttle? The easiest way would be holding the not_landed flag until the collective/throttle point for stabilize takeoffs but I'm guessing that may have other implications to the code. The soften_for_landing method could be used while taking off until the 50% hover collective/throttle position is reached.
Thoughts?