We've been getting an increasing number of reports of frustration with the inconsistent compass prearm errors. A good example is a recent log from Luis: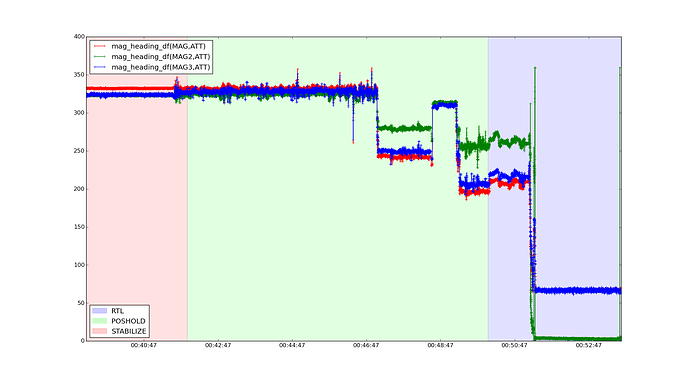 he is on a pixracer which has 3 compasses, one external and two internals. The two internals are a hmc5983 and the mpu9250.
The 2nd compass (the internal hmc5983) is way off compared to the other two. Compass one and compass three are nicely consistent. All Luis gets is a "PreArm: inconsistent compasses" message, which leads him into a never ending cycle of re-calibration as he tries to get the 2nd compass to produce a good result. It is highly frustrating, and also completely unnecessary as he has two good compasses.
I think what we should do is:
if we have consistency between the primary compass (as indicated by COMPASS_PRIMARY) and at least one other compass then don't give a prearm error
at the time the prearm check is done, if we pass the "primary consistent with one other" test then we should automatically set COMPASS_USEn to 0 for any other compasses that are inconsistent
that will allow a lot more people to fly without frustration, while still ensuring that people who have multiple compasses will have a backup.