FC: Cube Mini Carrier Board w/ Cube Yellow
Firmware: 4.3.0 DEV (didn't realize 4.2.2 had a Bdshot for Yellow)
Bat: 4S
Motors:2213-935kv- 9" prop
ESC: BLHeli_32 35A on the most recent stable release of blheli_32 esc firmware 39.2 I believe
Frame: Welcome to devFrame docs - devFrame docs (10 mm version)
GPS: mRo Location One GPS w/ Compass and Barometer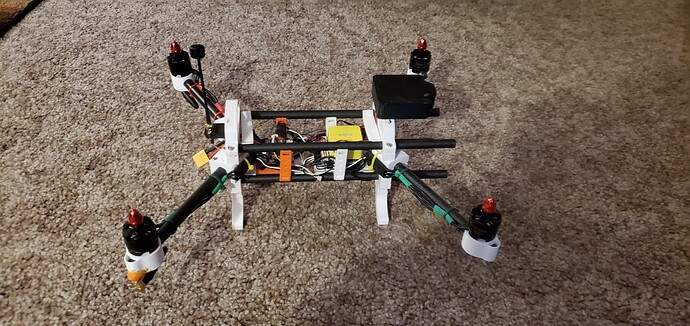 I have had this sitting for awhile and finally am getting around to flying it or at least trying to hahaha. I initially didn't realize that there was a stable version of cube yellow bdshot so I went with dev, I also had all disarming check shutoff (shame on me I know). I ran through the initial setup for a 9 in prop on a 4s battery and have been using this as a starting point on all my builds to get ready for tuning. This initial flight was to get a hover in so I could setup the notch filter so FFT was enabled and then use autotune. Upon take off in STAB it would be ok for the first second then begin to oscillate so I set do and halved all the parameters from the above pre-tuning guide
( 1. ATC_RAT_PIT_P
2. ATC_RAT_PIT_I
3. ATC_RAT_PIT_D
4. ATC_RAT_RLL_P
5. ATC_RAT_RLL_I
6. ATC_RAT_RLL_D)
The second flight didn't seem to be much better after doing so and I am worried that my motors my be a bit off (they have to be a bit off with how hard it hit the first time) they at least looked good to the naked eye and this handy little motor level I printed, what are the parameters in the bin file that can help look at motor skewness and is a positive value more forward and negative value more back? As I only had one battery, I only did two short flight. I have looked at the desired vs achieved on the PIDs and they are not bad at all actually. I will also mention that when power up this cube yellow it take a bit longer than all the rest of my cubes (yellow, black, orange, blue) to power up and if I try and plug the USB in with the buzzer given in the kit the USB will not power just sits there and gives a faint clicking noise so I have to remove the buzzer connection to get it to power via a USB without the battery plugged in. which seems fairly odd as though there is a short somewhere. I also noticed that when I fire up the cube and read the messages in MP when initializing that it never state BDshot on even though I have MOT_PWM_TYPE set to 5 and SERVO_BLH_OTYPE set to 5 which per my reading is both dshot300 yet it never says this on startup like all other quads that have it set. I also may have something set wrong for the BLH setting such as the bitmask as I get confused between all the different flight controllers and the mcu/iomcu stuff. I will also admit there were some hard landings so there will be some spikes in vibes and more than likely some clipping from those hard landings.
dev-frame.param (17.2 KB)
Above is the param file and it will show 4.2.2 but that was because I just uploaded it when I realized there was a stable version but I changed nothing from when 4.3.0 dev was on it when I flew.
Appreciate any insight or direction to help me analyze these issues better, thanks a million.