Hi,
My drone ( it's for paraglider take off ) it's no standard.
propellers directed downwards
the propellers overlap on 2 levels
the center of gravity is high
Thrust max is above 60kg
After lot of tests and calibrations at this moment i have no bad stabilisation but not perfect.
If AutoTune is safe for my drone ?
What i can do for better stabilisation.
Alt hold balancing up/down and sometimes loiter had a big oscilation.
Stabilize mode working no bad.
Spin_Max = 65% then stabilize is ok, else is very sensitive for RC throttle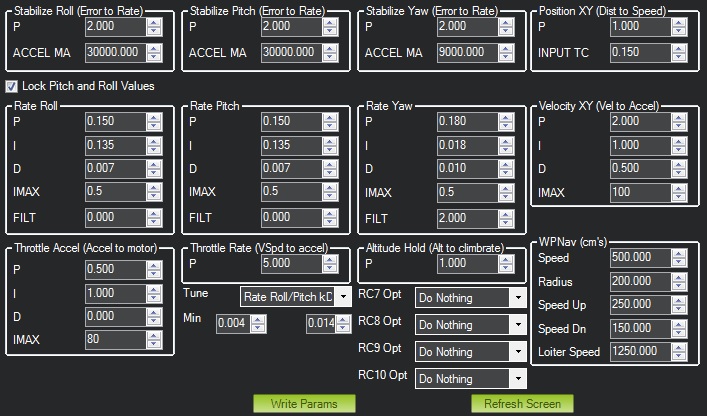 any tip will be of great help to me.
https://youtu.be/Ne4-zsPz8YE2020_10_10_0_loiter_dobrze.param (17.2 KB)
Log File C:\Users\Prokopcio\AppData\Local\Temp\tmpC0B1.tmp.log
Size (kb) 101551.9541015625
No of lines 1373651
Duration 0:05:32
Vehicletype ArduCopter
Firmware Version V4.0.4
Firmware Hash 40502bd9
Hardware Type
Free Mem 0
Skipped Lines 0
Test: Autotune = UNKNOWN - No ATUN log data
Test: Brownout = GOOD -
Test: Compass = GOOD - mag_field interference within limits (14.96%)
Test: Dupe Log Data = GOOD -
Test: Empty = GOOD -
Test: Event/Failsafe = FAIL - ERR found: FS_THR
Test: GPS = GOOD -
Test: IMU Mismatch = GOOD - (Mismatch: 0.22, WARN: 0.75, FAIL: 1.50)
Test: Motor Balance = GOOD - Motor channel averages = [1325, 1309, 1334, 1322]
Average motor output = 1322
Difference between min and max motor averages = 25
Test: NaNs = FAIL - Found NaN in CTUN.DSAlt
Test: OpticalFlow = FAIL - FAIL: no optical flow data
Test: Parameters = FAIL - 'MAG_ENABLE' not found
Test: PM = GOOD -
Test: Pitch/Roll = GOOD -
Test: Thrust = GOOD -
Test: VCC = UNKNOWN - No CURR log data