My setup is T-motor F2004 1700KV motors, T4030 props, T-motor F45A 4 in 1 ESC, 4S2P 7000 mAh Li-Ion. The AUW is 900g. The motors are capable of producing the thrust required but it does not takeoff even at full throttle. The RCOU values seen in the logs suggest that Pixhawk is sending signals to the ESC. Strangely when I reduce the weight of the quad(around 200g), I have no problem in flying the quad, although it loses altitude now and then.
It appears as the ESC is limiting its output to a certain thrust. I switched the protocol from DShot to PWM, but it did not help.
Assuming the battery could be an issue, I setup the ESC on another 6S copter with Antigravity 4004 300KV motors and 10000mAh battery and AUW of 2kg. Same result.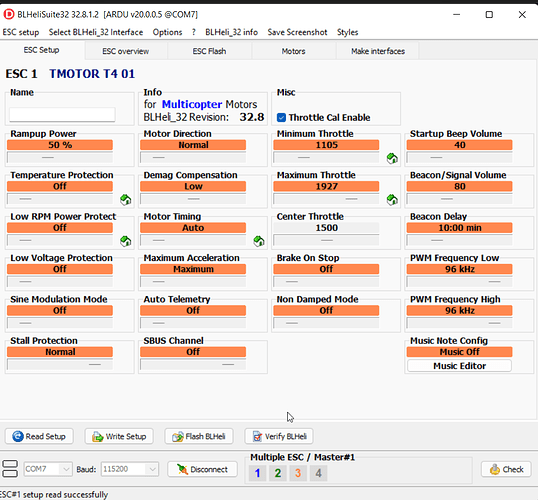 Log Files: WeTransfer - Send Large Files & Share Photos Online - Up to 2GB Free