I just built my first copter and is having problems on arming the motors. Here's my harware setup:
Flight Controller - Kakute H7 V2
GPS - GPS & Compass M8Q-5883 – Matek Systems
ESC - Holybro Tekko32 F6 60A running on BLHeli.
Motors - Racestar AirA 2508 1200KV
Firmware - V4.3.0 Beta 4
After I plug the batteries, until I am able to arm and spin the motors takes about 3-10min. Here's my observations: A minute or even faster after I plug the batteries, I push the rudder stick to the right to try to Arm it. A beep sound will be played but the motors won't spin. In the HUD it will display Armed. But during that minute or so, the motors did not play their chime to tell the pilot that they are ready to spin. This playing of the motor chime will take 3-10mins. Only by then when I push the rudder stick to the right will the motor start spinning.
My suspect is the flight controller has already completed the ARMING_CHECKS but for some reason, it is not telling the ESC's that its ready to take off. This step to inform the ESC's to spin after arming the quad takes about 3-10min. Here's the current settings of the ESC.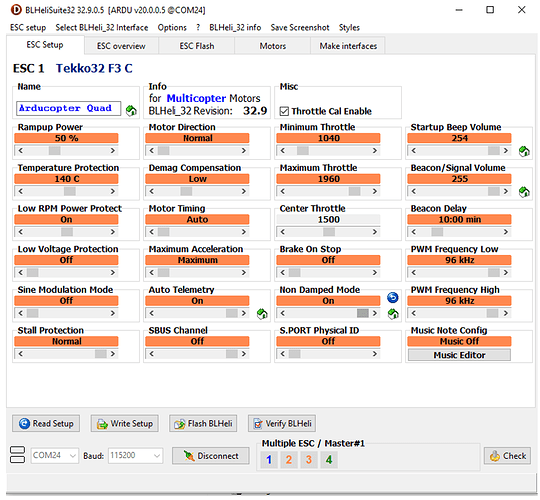 Can somebody check the ESC configuration and figure out what parameters needs to be coordinated with the flight controller parameters in order for the ESC's to be informed that Arming is ready.
Here's one BIN file.
https://drive.google.com/file/d/1O5RLq0DiMZ8yUTCjf-oDbExuH6V4ezng/view?usp=sharing
In the Auto Analyzer there are some failures. Is this something that needs to be addressed?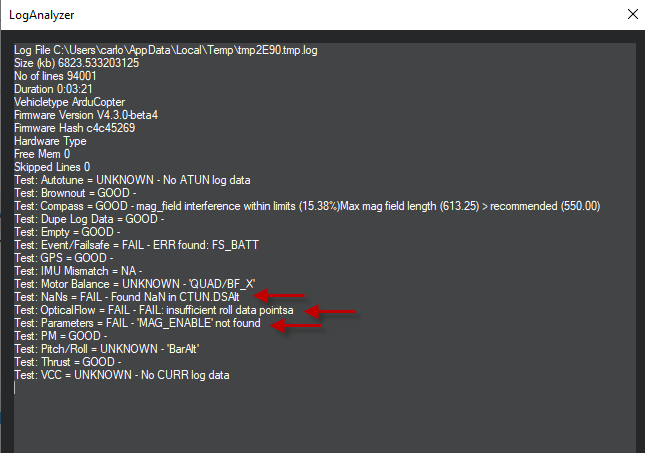 Regards,
Carlou