Hello,
I have updated to 4.1 Beta and have come across a couple of issues;
When using the VTX control, it is working however the mw in the OSD is not accurate. It states that is set to 25mw, 200mw, 500mw and then 800mw. However the VTX I have has the following power setting 25mw, 400mw, 800mw and 1600mw. I can see the power going to correct levels on the vtx. How do I get the OSD to display the correct value? My VTX is an AKK Race Ranger
Here are my settings: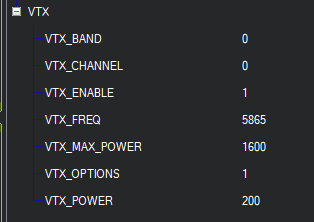 When trying to download my log files using mavFTP, the transfer rate is incredibly slow. I was under the impression that the latest version of Ardupilot fixes slow mavFTP transfers however it does not seem to have resolved this for me.
Any help would be much appreciated.
Thanks
Craig